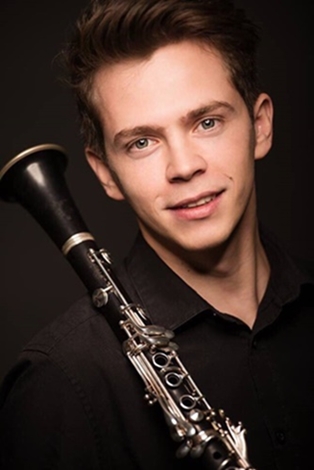 Born in 1990 in Ploiesti, Romania, Marius Birtea started playing the clarinet at the age of twelve at his hometown's "Carmen Sylva" Music high school.
Ever since, he was awarded numerous prizes and distinctions at both national and international competitions, a.o. the 1st prize at the "Martian Negrea" competition in Ploiesti, Romania, and the "George Georgescu" international competition in Tulcea, Romania.
He attended masterclasses with many world-renowned clarinetists, such as Karl Leister, Wenzel Fuchs, Reto Bieri, Jonathan Cohler, Andreas Schablas, Yehuda Gilad, as well as with the conductors Kurt Masur at the "Aurora Festival" in Sweden, Mario Venzago, Hans Graf and Manfred Müssauer.
Marius had his orchestral debut at the age of 17, when he performed the clarinet concerto in Es dur op. 36 by Franz Krammer-Krommer with the Ploiesti Philharmonic Orchestra, under the baton of I. Ionescu Galati.
From that moment on, he has been invited to perform with this same orchestra on a regular basis. Between 2010-2017 he attained both bachelor- and masters degrees in clarinet performance at the "Mozarteum" University of Salzburg, as a part of Prof. Alois Brandhofer's class. For both his degrees he was awarded distinctions.
His vast repertoire includes a large number of significant works written for this instrument, such as Mozart, Weber, Spohr, Nielsen, Francaix and Copland's concertos. In the field of chamber music, Marius has been equally active, with a repertoire that includes the most important works written for his instrument in the genre.
Recently, he jumped in for Dimitri Ashkenazy at the opening concert of "Musikwelten" festival under the baton of Manfred Müssauer.
Marius is a keen performer on Salzburg's classical music scene, being repeatedly engaged for solo and chamber music performances, in venues such as Marble hall of the Mirabell Palace and the Arenberg Palace. Further more, his regularly invited to take part in orchestral projects in various cities in Austria and Germany.
Since October 2017 he continues his postgraduate studies with prof. Andreas Schablas at the University Mozarteum of Salzburg.