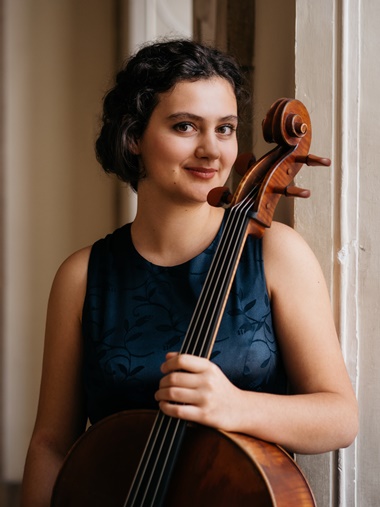 Born in 1999 in Paris, France, Madeleine Douçot started playing the cello at the age of six with Prof. Raymond Maillard. She then studied from 2008 to 2015 with Marie-Thérèse Grisenti, and in 2013 she obtained her Diploma of Musical Studies.
She attended several musical masterclasses, and received the advice of renowned cellists such as Xavier Gagnepain, Hélène Dautry, Philippe Muller, Jérôme Pernoo, Peter Bruns and Igor Gavrish. Passionate about chamber music, she played in several chamber music ensembles, and studied with Luc-Marie Aguerra, Yovann Markovitch, Imre Rohmann, Cordelia Höfer-Teutsch, Thomas Riebl and Wolfgang Redik.
She started performing from a very young age, giving many concerts and recitals with pianist Marc Vitantonio in famous concert halls in Paris, Saratov and Moscow, and is now regularly invited to play in Salzburg at the Marble hall of Mirabell Palace and at the Arenberg Palace, both as a soloist and as a member of the « Tempora Trio » together with clarinettist Marius Birtea and pianist Emese Badi.
She also took part to several orchestra projects, touring regularly with Salzburg Chamber Solists Orchestra, as well as with LaFil (Milan Philharmonic) Orchestra, and she was recently invited to become principal cellist of the Attergauer Jugendsinfonie Orchestra founded in memory of Nikolaus Harnoncourt.
Laureate of many national and international competitions, such as Vatelot-Rampal Competition (1st Price in 2009), Alexandre Glazounov Competition (1st Price in 2010), Flame Cello Competition (1st Prices in 2011 and 2012), Bellan Cello Competition (1st Price, 2013), and Knushevitsky Competition (2nd Price in the junior division, 2014, in Saratov, Russia), Madeleine was invited the same year to take part to Tchaïkovsky International Cello Competition for young musicians in Moscow (Russia). In 2016 she was awarded the 2nd Price in Knushevitsky Competition – senior division (Saratov, Russia).
Since 2016 she has the privilege to study with Prof. Clemens Hagen in Mozarteum University, Salzburg.
Madeleine Douçot plays a cello made by french luthier Frank Ravatin.