Welcome to our Website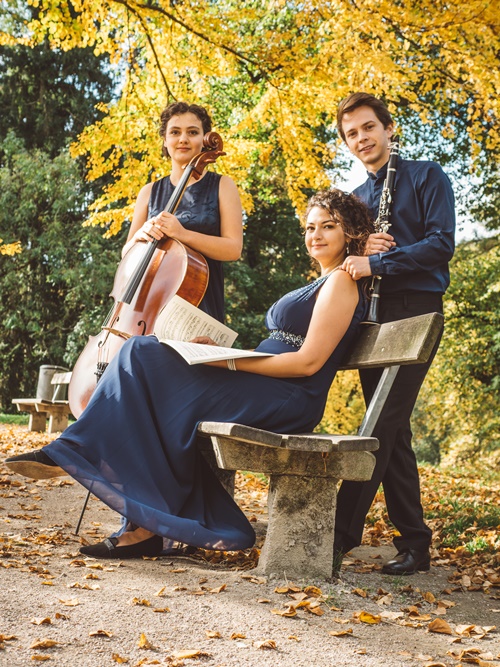 Founded in 2017 in Salzburg by Romanian clarinetist Marius Birtea, French cellist Madeleine Douçot and Hungarian pianist Emese Badi, the young Trio Tempora has already gathered extensive performing experience, being regularly invited to perform in concert venues such as the Marmor Hall of the Mirabell Palace Salzburg and the Konzertrotunde & Wanderhalle of the Bad Reichenhall Philharmonie.
The young talents have all studied in the University of Mozarteum in Salzburg under the supervision of Clemens Hagen, Alois Brandhofer, Imre Rohmann and Cordelia Höfer-Teutsch.
Passionate about chamber music, they perform the greatest masterpieces of the Viennese Classical repertory including Wolgang Amadeus Mozart's"Kegelstatt" Trio KV. 498 and Beethoven's Clarinet Trios Op. 11 and Op. 38.
The trio is also passionate about the romantic repertoire, such as Brahms' Clarinet Trio Op. 114 , which they recorded in November 2018 in the University of Mozarteum Salzburg, and Bruch's 8 Pieces Op. 83 , which they first performed in January 2019 as part of the "Tangobrücke" concert series in Einbeck, Germany.
Trio Tempora has a successful collaboration with the Swedish contemporary composer, Jonathan Ostlund, whos trio "Sonatine Lyrique" they premiered in October 2018 in the Arenberg Palace in Salzburg. The trio has signed a recording contract with Divine Art Records in August 2018 to record and release Ostlund's Sonatine Lyrique for his double CD, planned to be released in the spring of 2019.
The young ensemble has already a great number of engagements for the upcoming seasons including chamber music concerts in Austria, Germany, Hungary and France.