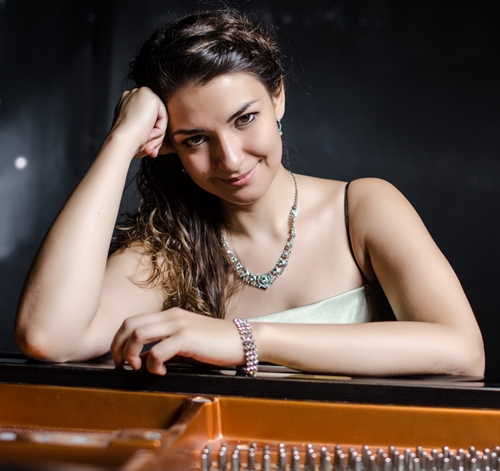 The 1990 born Hungarian pianist, Emese Wilhelmy began her studies in 2009 at the University of Mozarteum Salzburg in the class of Cordelia Höfer-Teutsch.
Emese gained a wide variety of concert experiences: she performed in famous concert halls, such as the Großer Saal of Stiftung Mozarteum in Salzburg, Europahaus in Vienna, Schloss Eszterházy in Eisenstadt and the Auditorium in Palma de Mallorca.
Emese is also a permanent guest artist in the cultural events of Atrium Bad Birnbach in Germany and the Mirabell Palace Concerts in Salzburg, where she performs with several chamber music ensembles a great variety of the classical repertoire such as the piano concertos and piano quartets of W. A. Mozart, the piano trios of J. Brahms and L. v. Beethoven and the piano duos of Dvorak.
Emese has received her master degree in June 2016 at the University of Mozarteum Salzburg. Her mentors, Imre Rohmann, Cordelia Höfer-Teutsch and Jean-Pierre Faber have shown her the path and directed her to chamber music and lied accompaniment, therefore she devoted her musical work and focus to these two essential elements of piano music.
During her studies Emese got the chance to work with world famous pianists such as Paul Gulda, Paul Badura-Skoda, Olivier Gardon, Dénes Várjon, Balázs Szokolay, Prisca Benoit and Peter Takacs.
Emese has also worked under the supervision of greatly acknowledged singers, such as Barbara Bonney and Wolfgang Holzmair.
Since her final master's concert in 2016 Emese has been working with several fix chamber music ensembles, such as the Trio Tempora Salzburg together with Romanian clarinettist, Marius Birtea and French cellist Madelaine Doucot. Their repertoire spans a wide range of musical styles with a focus on classical trios, including the works of Ludwig van Beethoven and Wolfgang Amadeus Mozart. They also perform chamber music pieces from the 20th century, such as Nino Rota's trio for clarinet, cello and piano.
Some highlights of Emese's next season are contemporary projects with the German painter, Bernd Horak, Lied-concerts with the Hungarian composer Dániel Dombó, musical events with Austrian poet, Katrin Hagenbeck and a great number of classical engagements with the Mirabell Chamber Ensemble, performing Mozart's Piano Concerto No. 27 in B-flat major and Schumann's Piano Quintet.
Emese's passion for the lied-repertoire has awakened in 2014 and ever since she has been accompanying many singers with all voice ranges. She has recorded the Seven Popular Spanish Songs from Manuel de Falla in 2016 in Salzburg with the Swedish soprano, Himani Grundström and she is currently working together with the Russian bass-baritone, Alexander Voronov, who debuted in "Lohengrine" by S. Sciarrino at the Easter Festival in Salzburg in 2017 and has received several invitations from opera studios for future engagements ever since.
Her trio, "Trio Tempora" has recently signed a recording contract with the label, "Devine Art" for the recording and performing of the Swedish composer, Jonathan Östlund's piece for clarinet, cello and piano, "Sonatine Lyrique".